Historic
Casa
Loma
is one of the largest castles in North America and the largest residence in Canada at more than 64,000 square feet. Built in 1913 by financier and technological innovator Sir Henry Mill Pellatt (1859-1939), the castle has become one of the towering symbols of Toronto's illustrious past. In 2014, the castle was taken over from the City of Toronto by the
Liberty Entertainment Group
, led by visionary Canadian empresario
Nick Di Donato
and transformed into an entertainment complex featuring music and cultural events, fairytale weddings and the groundbreaking steakhouse
Blue Blood
. Early on,
Robin Rile Fine Art
was enlisted to consult on locating original fine art for the castle itself as well and the new restaurant venue.
To this end, working with Nick and interior designer
Nadia Di Donato
, we consulted history books and compiled lists of the original artworks included in Sir Pellatt's groundbreaking original collections, ephemera in his décor, automobiles in his garage, as well as envisioning what he might include in a modern, cutting edge dining area. The twin lions (c. 1920's) flanking the exterior windows at the entrance were single slabs cut from the same Portuguese quarry which yielded
Casa
Loma
's conservatory.
The entryway boasts a 1.5″ mirrored slab of Calcutta Marble with a natural break, revealing the Blue Blood Crest.
Behind the raw bar, authentic heirlooms from Sir Pellatt's collection speak to the history of the venue and the princely setting.
Despite its independence, Canada recognizes Queen Elizabeth II (b. 1926) of Great Britain as its Head of State. Her visage adorns the currency of Canada and she is holds a place of tremendous reverence. Her grandfather H.M. King George V (1865-1936) had even visited Sir Pellatt at
Casa
Loma
during his reign. The term "Blue Blood" actually refers to the nobility of Europe appearing to have "blue blood" under their skins.
Fittingly, Street art Icon Mr. Brainwash's (A.K.A. Thierry Guetta, b. 1966) "QE2" presides over the Great Oak Room of Blue Blood Steakhouse. Commissioned specifically for installation in Blue Blood, she holds a spray can as a wink-and-nod to both classical and modern sensibilities. Mr. Brainwash's quintessential "Life Is Beautiful" has become a hallmark for all of Liberty Entertainment Group's venues and is echoed above Queen Elizabeth II's royal crown.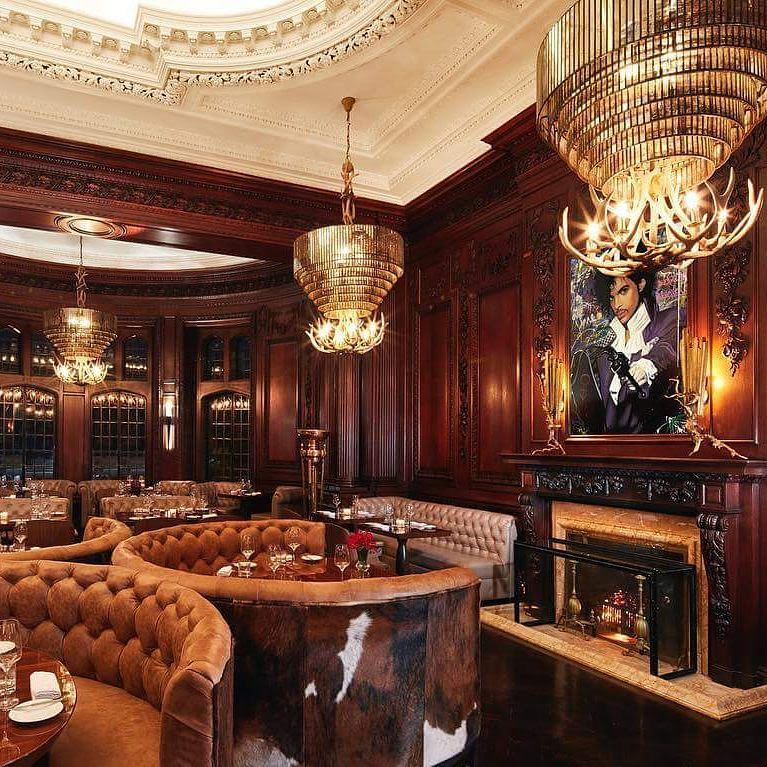 For every Queen, must be a "Prince". Much of the reverence traditionally held for royalty is today encapsulated by our admiration of celebrity. Rock Stars have become our "Blue Bloods". With Canada's position as a quintessential melting pot of cultures mixing blood both red and royal blue, Street Artist Mr. Brainwash's, "Purple Reign"(a play on Prince's "Purple Rain"). This is Mr. Brainwash's first depiction of the recently departed music Icon Prince (1958-2016) and was commissioned specifically for its placement in Blue Blood.
Spanish master Salvador Dali's (1904-1989) enigmatic "Surrealist Angel" (monumental-scale bronze, 163cm) remains one of the most revered and mysterious 20th Century masters. His over-the-top personality and his vast knowledge of subjects as diverse as complex mathematics and science, spiritual and psychological dogma and the broad spectrum of Art History, make him one of the Blue Bloods of Art.  Angels are an important theme throughout Dali's work. He writes, "Everything is on the 'outside' with angels, it is impossible to picture them anymore without this 'outside". [Robert & Nicolas Descharnes, Catalogue Raisonne, "Le Dur et le Mou", 2004] Dali's bases his "Angel" on the 3rd century Greek Icon "Winged Victory/Nike of Samothrace" (Musée du Louvre) providing a glimpse into what he felt his own "Nike" was meant to symbolize, the sounding of the trumpets of Victory.
No steakhouse would be complete without a "Cow", and Pop Art Icon Andy Warhol's (1928-1987) "Cow" (Cat. #F&S.II.12A) adorns the Sitting Room. This work is flanked on the left by Warhol's depiction of Toronto-native and legendary ballerina Karen Kain (Cat. #F&S.II.236), who personally signed this printwork for Blue Blood, making it truly unique. She performed with Rudolf Nureyev, The Bolshoi Ballet, The Vienna State Opera and Paris Opera Ballet and remains active in ballet with the National Ballet of Canada.
To the right is Ontario-native Wayne Gretzky (Cat. #F&S.II.306) whose transcendent Hockey prowess earned him the title "The Great One", while earning 4 Stanley Cups, and 61 National Hockey League records for play between 1979-1999. His jersey number "99" was retired from the entire NHL; the only player to have this honor.
Culminating Blue Blood's Andy Warhol collection is "
Indian Head Nickel"
(Cat. #F&S.II.385) from his quintessential "Cowboys & Indians" Portfolio. Cowboys are obviously an essential part of the history of any steakhouse. But, the 1913 "Liberty Nickel" echoes varied sentiments personal to Blue Blood Steakhouse. Namely, that
Casa
Loma
itself was erected in 1913, and in 2014 was taken over by the Liberty Entertainment Group and its CEO, Nick. The confluence of symbolism makes this Warhol the quintessential emblem of what Blue Blood represents.
Last, but certainly not least…
Henry the Moose
, presides in silent salute to the original moose head which hung over
Casa
Loma
as shown in the original photos from the 1924 auction which disbursed Sir Pellatt's original collections, so lovingly re-assembled, in both spirit and admiration, by the
Liberty Entertainment Group
and
Robin Rile Fine Art.
For information or consultation: